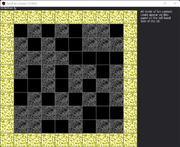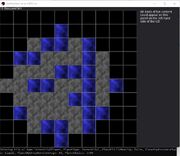 Originally titled Multiversal Space Sim, known as V&D Nation Game on Github, and which as of now is a 2D Nestedlike, is a game created by me and PlanetN9ne that has currently has a universe that you can click on tiles to zoom in on, from 10 billion light years across on the largest universe map to 10,000 km across on the smallest planetary map.
Currently, it includes superclusters inside those filaments, and clusters inside those superclusters, and groups inside those clusters, and galaxies (of shapes spiral, barred, elliptical and irregular) inside those groups, and stars inside those galaxies of different spectral classes (OBAFGKM, as well as generic red giants and supergiants), and generates solar systems around those stars, and planets in the solar systems.
The name Multiversal Space Sim is my aspiration for where this will end up, with the player being able to design and operate different kinds of nudge drives and glider guns. Nudge drives are cosmic in scale; I need a cosmic map. Glider guns are exponentially bigger; I need a map with exponential zoom. If you have both of those, of course zooming way down is good, if you can implement it go do it.
The name Verse and Dimensions Nation Game is because at some point I also decided that I wanted it to be 4x a game of civilisation as well. This is continuous with the nudge drive concept; operating a nudge drive is like operating a Type IV Civilisation, and if you can do that, then why not add the ability to be a Type II Civilisation, they're the same kind of thing just smaller. Why not add the ability to be a Type 0 civilisation? - though I'm less sure that would fit at all with the engine (but now that I've said it, I'm of course going to have to do it, and I'm already thinking of how to make it an evolution game, so time to stop).