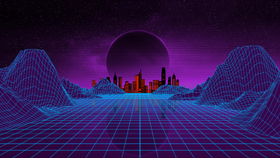 The
Metaverse
is a virtual-reality space in which users can interact with a computer-generated environment and other users.
About
The Metaverse is a collective virtual shared space, created by the convergence of virtually enhanced physical reality and physically persistent virtual space, including the sum of all virtual worlds, augmented reality, and the internet. The word metaverse is aportmanteau of the prefix "meta" (meaning "beyond") and "universe" and is typically used to describe the concept of a future iteration of the internet, made up of persistent, shared, 3D virtual spaces linked into a perceived virtual universe.
The term was coined in Neal Stephenson's 1992 science fiction novel Snow Crash, where humans, as avatars, interact with each other and software agents, in a 3D space that uses the metaphor of the real world. Stephenson used the term to describe a virtual reality-based successor to the Internet. Concepts similar to the Metaverse have appeared under a variety of names in the cyberpunk genre of fiction as far back as 1981 in the novella True Names. Stephenson stated in the afterword to Snow Crash that after finishing the novel he learned about Habitat, an early MMORPG which resembled the Metaverse.
Community content is available under
CC-BY-SA
unless otherwise noted.